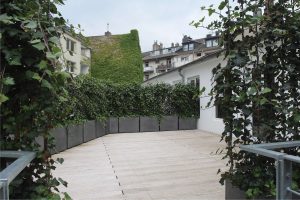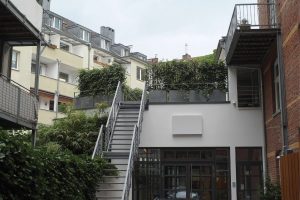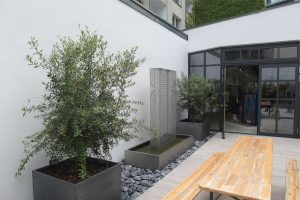 Tree containers, and bamboo in planters to dress the back wall with greenery !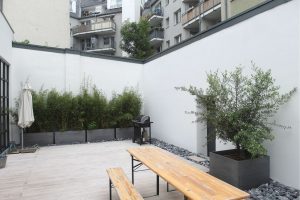 Ready to be install !
Image'In has tailor-made a set of planters to surround this magnificent terrace in Dusseldorf, Germany. Dressed with ivy, a curtain of greenery is thus created, conferring all the intimacy necessary to the terrace of the top.
Made to measure, we find here trapezoidal trays, or even L-shaped corner trays to fit perfectly the space to border.
Fully equipped pots: with installation on adjustable feet, option of sealing on the ground, integration of the automatic irrigation system and programming box, and a horticultural system in bottom to ensure a perfect drainage while offering a reserve of Water of 5L / m².
The choice of patina imitating the appearance of zinc brings warmth due to its matter effect.
Planters used as a visual-barrier with ivy which is climbing on wire mesh:
On-site installation  :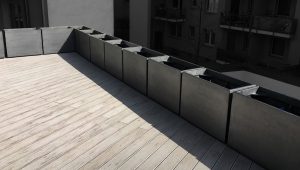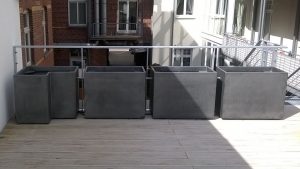 References : Containers IRM77.40H60 / IRF114.30H60 – Tree tub IRM100.80H60 ; ICM 80.80H60 – Special shapes ITP et IRL;
Color & Finish : Hand-finished shine imitating the appearance of zinc; With matt finish;
Water Management : draining base with hoticultural system (Drainage perennial + reserve of water)
Options : IOP-TES Hole and crosspiece for secure fixing / IOP-PLOT : Installation on adjustable PVC feet to allows adjustments in the alignment of linear arrangements of containers.
Turnkey : Fittings for putting in automatic watering.
An achievement signed by : Ejendomsselskabet Köln & Düsseldorf – 9000 AALBORG – Danemark
Place of installation : Hammer Str. 26 – 40219 Düsseldorf – Allemagne


Options details :

Fittings for putting in automatic watering system (Simply on request, we can adapt the containers to suit your requirements: perforations, cut-outs, waterproof risers, etc. / In option, it's possible to furnish all the automatic watering system).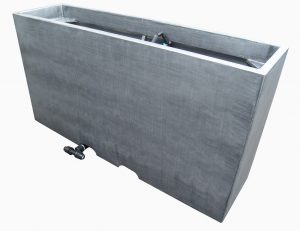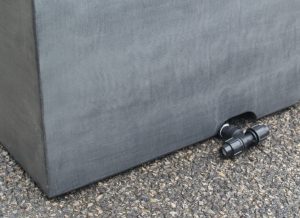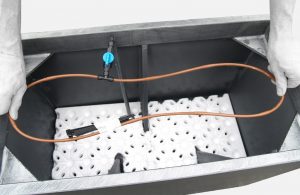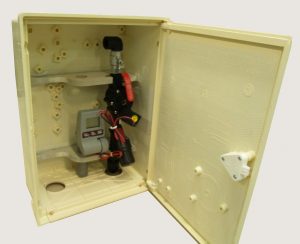 Corner planter in L and Trapezium with Horticultural system in bottom of tank – "IOP-SH"
Hand-finished shine imitating the appearance of zinc with matt finish – " IOP-PZC "
See again this project in video
: