Want to breathe the fresh air while remaining in the shade of plants? Design, contemporary, warm … finally a pleasant smoking area thanks to the Image'In pot and its built-in ashtray! Café / Bar, Hotel, Restaurant, Public places (station, airport …), Entreprises or even private … all of them will be enchanted.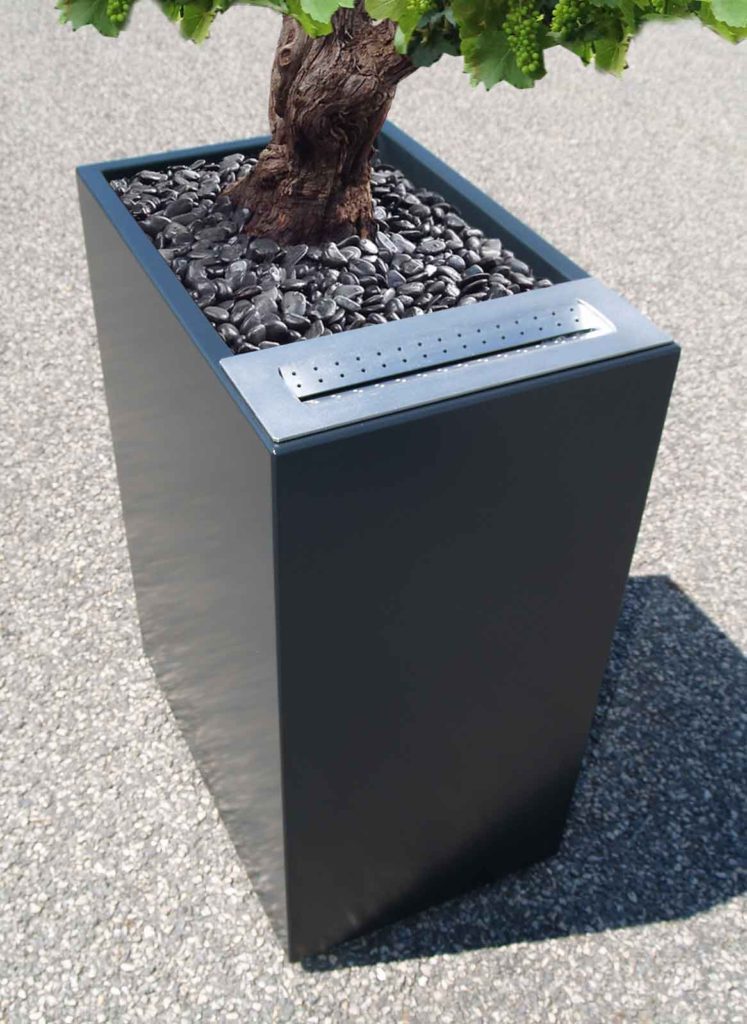 Made in France, bespoke and in fiber cement, the plant container Image'In can be declined in all the forms, sizes, colors …
The ashtray can be coupled to a basket to sort the waste: cigarette packets on the one hand / ash and butts on the other hand. The latter may also be provided or not with a tamper-proof system according to the intended use.
The planter can accommodate all types of plants; optionally it can be equipped with a horticultural system with water reserve, invisible casters to move easily for storage in a safe place – or a hatch for handling larger pots with a pallet truck.
Customizable at will, choose the color according to your layout or your graphic chart; and have a name, a message, a pattern or your Logo engraved!
The planter equipped with an ashtray is also available in our STEELAB range in aluminum sheet metal, ideal for large volume containers, tree tubs, or for street furniture used in public spaces.
Always made-to-measure: shape, size, color, engraving, mobility, with an integrated seat … enjoy!
A new project ? Let your imagination speak … Atelier So Green does it for you!
Discover in more details some others achievements:
Company – Planter with ashtray and baskets
Bar – Planter with inviolable ashtray
Station – Steelab tree tub engraved with inviolable ashtray and seat