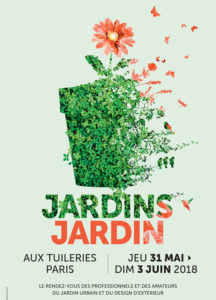 An event not to be missed in the heart of Paris!
THE EVENT OF PROFESSIONALS AND AMATEURS OF THE URBAN GARDEN AND OUTDOOR DESIGN
The salon opens its doors at the Tuileries from Thursday 31st. May to Sunday 3rd. June 2018, so to your schedules !
Take inspiration there, Atelier So Green will help you realize your made-to-measure projects !
> More about it : Jardins, Jardin 2018
Four days dedicated to the general public in order to live an enchanted immersion in the heart of Paris:
A veritable ode to landscape gardening:
Around thirty transient gardening projects created by master gardeners or young talents
100 exhibitors for garden decorations
The project village and its 3 bowers: contest for innovation, school exhibitions and prototypes of exterior decoration
Prize giving, flower baptisms etc…
THEME 2018: Experiencing Nature
In 2018, Jardins, jardin will be the perfect place to discover experiment and promote all modern initiatives of "Experiencing Nature" in urban areas.
The word experiencing invites visitors to look at gardens and at nature as a laboratory of ideas. A place of exchanges around the most innovative of experiments conducted as regards to landscape and urban development, where nature plays an increasingly important role. It is also the occasion to meet and speak with professionals from different, but complementary fields – whether they be landscapers, designers, producers, contractors.
Amateur gardeners can discover the wealth of ideas and experiments undertaken in various fields concerning the art of gardening, nature and urban environment.
Create, play with plants, domesticate, develop a new language.
Innovate, invent tomorrow's territories.
Nature and gardens offer infinite possibilities of awareness, it's why the very young are not forgotten and can find playful learning courses which are sensorial and artistic.
Jardins, jardin: See, participate, hear!
The event is spaced with a wealth of free activities for the whole family, for young and old, and for passionate amateur gardeners. In the program: many hands-on workshops, themed animations, guided visits, conferences etc…
Jardins, jardin: come see and buy!
The public is warmly invited to discover the transient gardens, landscaped creations, and to buy objects and accessories for their gardens. Easy growing plants are also available.